Christmas Emails? Easy!
4th December 2015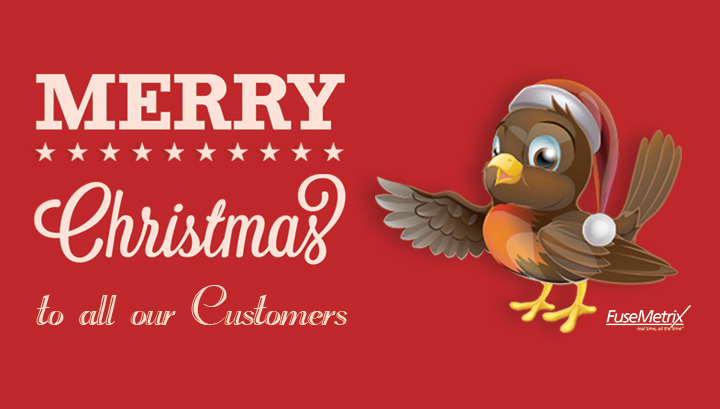 Over the last few weeks we have covered several areas of the FuseMetrix system and now we are going to bring some of that knowledge together and show you how FuseMetrix can turn YOUR CRM data into something useful for your business.
As an example, we are going to show you how to email out a festive email to a group of clients - a subset of your whole client list that you have control over at all times. This is a three-stage process: we will create an extra info field to store information about clients (whether we are going to send them an email for Christmas);we will create a filter, so that we can extract that information from your database; and then we will use that extracted information to send a targeted email.
We have covered all these processes in recent news updates, so if you missed one or cant remember the details, you can go back and review the information at each stage.
Firstly then, lets create an Extra Info field;
In the menu, go to Customers, then Contacts (or People). Open a contact up, so you can see the Extra Info panel underneath the main contact details:
Click "Edit Layout", so that you can add a field. We want to add a checkbox field called "Christmas Card?", so drag a new field onto the panel, and edit both parts of the new field so you get this:
This field will appear on all your contact records, and you now have the pleasure of deciding which of your contacts will recieve a Christmas email from you; if you want them to recieve an email, just check the box on the customer record.
Now you have decided which of your customers are going to recieve an email, we need to extract these customers as a subset of your customers. To do that, we are going to create a filter to select those records where the checkbox is checked.
Go back to Customers in the menu, then Contacts (or People). At the top of the screen, click "Edit Contact Filters" You will see a list of your existing filters, and you should click on "Add" to create a new one.
Enter a name for your filter, then decide who should be able to see it. Then click on "Add Condition" at the top of the screen.
Choose the field you want to filter on ("Christmas card?") then choose the filter criteria ("Equal to"), then the condition ("Ticked"). Don't forget to save the filter! Now you can return to the Contacts list , and you can use the Contact Filter pulldown to choose the filter you have just created:
You will see a filtered subset of your customers, and all of these will have the "Christmas card" box ticked. So now we have chosen the people we are going to email, and we have created a subset. As a tip, if you have lots of customers and you want to send most of them a Christmas email, you could tick the ones you DON'T want to get an email and then set the filter to choose the UNTICKED ones - easy!
So now lets create the email you want to send to all these lucky people...
Click on ResponseMail in the menu. You will see a list of existing campaigns (if you have created any previously). Click on the "Add" button, and complete the details as necessary: And SAVE!
Now we want to create the list of people that the campaign we have created will send emails to. Click on "Email Lists", which is under the ResponseMail menu item. You will see a listing of all the lists currently in the system. Click on "Add" to create a new list. On the next screen, enter a name that you would like to use for this list. We are going to call ours "Christmas Card".
Save the list, and you will be taken back to the overview list of campaigns. This time, click on the Email List name you have just created and you will see the following screen:
We are going to be a bit clever now, and link this email list to the Christmas Card filter we created in Contacts. This linking is one of the great benefits of the FuseMetrix system! At the bottom of this screenshot, you will see a line that says "This list is not linked to a FuseMetrix phonebook" and a button marked "Change" Click on that "Change" button... You will see a dropdown to select the FuseMetrix phone book to link to, and in this case we will select "Customers/Prospects".
Once that is selected, click on "Next" at the top of the screen, and you will see these screens: Under the "Contact Filter" dropdown, you should find the "Christmas Card" filter that you created earlier. Select that, and DON'T FORGET TO CLICK ON SAVE!
Once saved, you will see a screen that tells you how many email addresses will receive an email, and a confirmation of the phonebook and filter list that you have chosen. Now we will link this list to the campaign you created; click on ResponseMail in the menu, and select the Christmas card campaign. On the next screen, click "Edit" and go to the "Email List" section. Use the dropdown to select the email list "Christmas Card" we just created.
Don't forget to click save! Nearly there now...
In the next screen you can create the email to send out to this Christmas card list. We'll leave that bit to your imagination! Once the email is created and you are happy with it, you can send it to the email adresses on the list whenever you like... Don't forget to do a test send, and make sure you send it through the Spam scorer to make sure you don't get lots of returned emails.
Lets get on and spread some Christmas cheer!