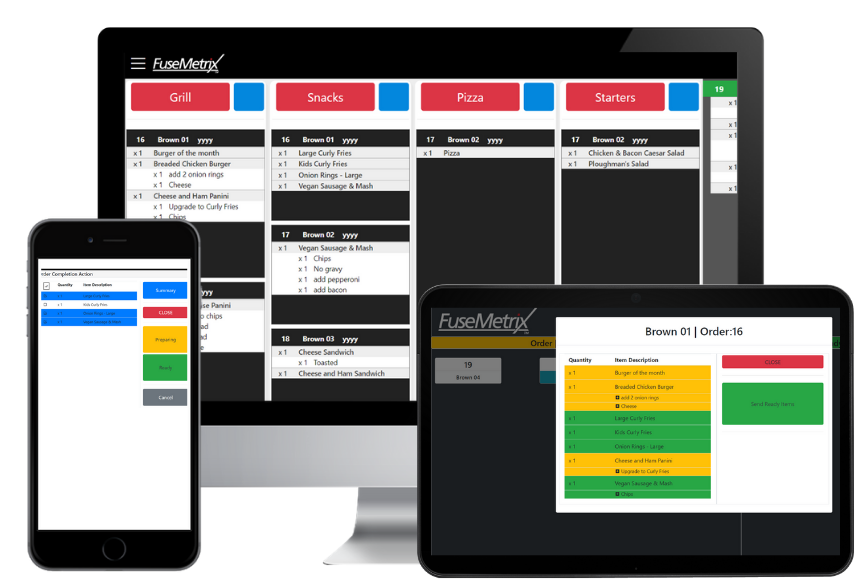 FuseMetrix Leisure Management System contains everything you need to run and scale up your business on a single platform.
Our F&B Hub is a food ordering service, allowing customers to order and pay for food and drinks direct from mobile phones, tablets or kiosks.
The system offers the ability to run table service or order number 'ready for collection' on TV Screens, minimising human contact as much as possible. Your customers do not need to download any special app, they can simply access the menu to your site directly on your website.
F&B Hub Benefits
No Queue
Integrates fully with FuseMetrix EPOS
Protects Staff & Customers
Enhanced F&B Cost Management
Improve Stock Control
Real Time Order Status Information for Staff
This non-touch, web ordering system will enable customers to order easily and from the table direct, avoiding queues and preventing face to face orders with members of staff.
The online ordering system integrates fully with the FuseMetrix EPOS, which communicates orders directly to the kitchen staff. Most online systems operate alongside point-of-sale systems and can cause some disruptions with in-house operations. Therefore, by choosing the FuseMetrix fully integrated system, food & leisure companies have the solution to eliminate headaches that third-party apps can bring, whilst reducing costly errors from mistakenly wrong orders.
Encouraging customers to order their own food, will not only reduce the risk of Covid-19 virus spreading, but it will also make the ordering process easier and improve employee productivity.
Employees can spend less time taking orders and spend more time preparing orders. Especially Chefs who can now work from a touch screen, instead of managing multiple food orders on paper?
Introducing FuseMetrix automation into the kitchen helps the restaurant operate in a well-organised way.
Increase Sales & Profitability
The FuseMetrix F&B Hub makes the entire process seamless and reduces paper wastage and it will be just as effective when traditional customer patterns return.
By giving the customer complete control of their order, it is likely they will spend more time deciding what to order and have the option to browse the menu, without being rushed. The web ordering system can prompt customers with up-sells and cross sales as part of the journey, leading to potentially more profitable orders.
FuseMetrix can help businesses stay ahead of the competition and grow bottom line through its ability to better analyse orders and customer data. This information is crucial for marketing purposes, to understand regular customers, popular food items, promotions and offer performance and drive more effective targeted communications.
Membership Benefits
By understanding the behaviour of individual customers, businesses can enhance the customer-restaurant relationship by providing end to end customer relationship management (CRM) and market to them based on their preferences.
For all regular and returning customers, companies can introduce membership schemes within the system, where customers can either earn points which they can redeem or use the membership for frequent attendance.
With very few restaurants offering online food ordering facilities, now is the time to take advantage of FuseMetrix's capability to meet your customers' demands for a safer, faster, more convenient way of ordering, whilst having the data to grow your bottom line.
Improve Stock Control
Using our system will provide insights to intelligent analytics and comprehensive reporting, to help with stock control.
FuseMetrix will reveal reports that show what food items are selling and enable food & leisure companies to make forecasts and sensible procurement decisions that cut down waste.
Minimising waste and accurately forecasting the demand of products and the control of materials, will save money as companies can look to add, adjust or remove items from the menu.